Whoa. What was that Rookie Shootout?! Sandfer and Smith didn't perform as the starting position said. Yet again, Las Vegas is now a shuffler, and the draft is more noticeable. According to the results, Sandfer and Smith are equal contenders for Rookie of the Season. As for the other rookies, Weeks and Brock could be studs. Note that Dajon Weeks is running 12 races; we go by average finishes. They perform well. However, every race in Slim Jim Series (well almost) has something that is screwed up. First off, Carter and Cooper. It was a racing deal, but what even is that wreck? I don't think it's too serious from what I saw, but crap. Also, Marco Rossi. Really?! He's not even an oval driver but perform like it was the 1 in 70. And Rossi didn't commit murder yet. I'm not mad at him. Just surprised.

After that, we can talk about the Tabasco Shootout. The shootout contains winners and pole sitters from last season, drivers top 5 in points that never recorded a win or pole, last season's Tabasco Shootout winner, and the Rookie Shootout winner. We are suppose to have 26 drivers (which would been the biggest shootout field in ISCC history), but Sam Young (got 2 poles last season) and Cynder Kumori (Season 3 Tabasco Shootout winner) are not going to run the shootout. Meaning, there are going to be 24 drivers. Still a decent size though. Here's the field for the Season 4 Tabasco Shootout:

0 Peter Sparrow (1 win)
1 RJ Manson (1 pole)
2 Will Lewis (finished top 5 in points)
4 Dajon Weeks (Rookie Shootout winner)
5 Dillon Young (1 pole)
6 William Duncan (Season 3 Slim Jim Series champion, 5 wins, 3 poles)
8 Luke Trigger (1 win)
00 Jason Percle (1 pole)
01 Raphael Vonlanthen (1 win)
15 Nasu Tsuneomchi (Season 3 Rookie of the Season, 1 pole)
16 Foxy Duncan (2 poles)
17 Cyrus LaTerza (2 wins)
18 Alan Cavagnaro (3 wins, 1 pole)
20 Sean Angel (Season 3 1 in 70 winner)
24 Charles Sandfer (1 win, 1 pole)
26 DJ Kurtis (1 win, 1 pole)
29 Ghettson Moore (2 wins)
31 PJ Williams (1 win, 4 poles)
41 Maxwell Chan (2 wins, 5 poles)
48 Jake Baskinger (1 win)
66 Cale Burnfardt Jr. (1 win)
70 James Shelly (1 win)
92 Jeffery Finguy (1 win)
99 Matt Duncan (1 win, 3 poles)

Qualifying for the Tabasco Shootout will be up tomorrow.
Here are the qualifying results for the Tabasco Shootout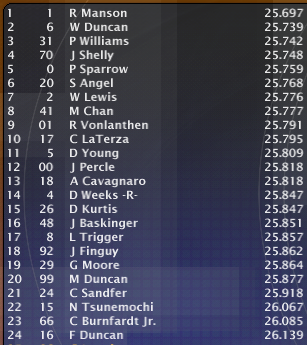 RJ Manson took another one at Las Vegas. This is his third pole in his last four Vegas races including his Rookie Shootout pole last season. Manson seems to be a very good qualifier at Las Vegas. The Duncan brothers are 2nd with William Duncan and 20th with Matt Duncan. That is very weird for Matt to struggle. Our Season 4 favorite Sean Angel starts in 6th. Our Las Vegas winner from last season Charles Sandfer starts in 21st. Our last notable is Dajon Weeks, Season 4 Rookie Shootout winner, starts in 14th.
The Tabasco Shootout will go up tomorrow.
The Tabasco Shootout is up!



Next up after this is the first round of the Slim Jim Series at Las Vegas.

---
Permissions in this forum:
You
cannot
reply to topics in this forum